Fly Fishing Goldmine in the Arrowhead
Fishing for Trout in NE Minnesota's Designated Stream Trout Lakes
by Phil Vieth
Northeastern and central Minnesota hide a gold mine of trout fishing opportunities that are relatively undiscovered and untapped by fly fishers:  state designated stream trout lakes. These are small, cold lakes that the MNDNR stocks with trout normally found in streams, such as brook trout, rainbow trout and brown trout, with some hybrids like splake (male brook trout crossed with female lake trout) thrown in for good measure. They are hard to reach and subsequently hardly fished, according to MNDNR Stream Habitat Coordinator Brian Nerbonne.  Some may see only one or two anglers a summer. That can mean trophy trout.
There are 102 of these stream trout lakes in Cook and Lake counties alone! Some of these lakes are so remote, the MNDNR stocks fish by using float planes, or by hiking in with Duluth packs filled with trout. Other lakes are close to good roads. Larger lakes, such as Trout Lake, Kimball Lake, Birch Lake and Ester Lake, have launching access for small boats, but most don't have boat ramps. Some others, such as Mink Lake in Cook County, have fishing piers.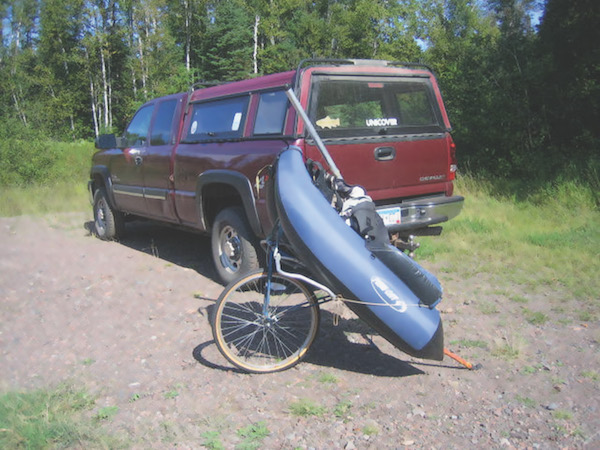 However, about 20 of these lakes are on trails and poor roads in the Superior National Forest that are not conducive to driving without four-wheel drive, or an ATV. Still others are in the BWCA Wilderness, where you'll have to hike, canoe and portage to them. Many shorelines are difficult to fish from, so the best way to fish these lakes is with a float tube, small pontoon boat, or kayak. A small, light, canoe can be used, but it is easily blown around if there is a wind. I use one-man pontoon boats, but they are bigger and harder to haul. However, they are very nice to fish from, especially on bigger lakes.
A float tube is my first choice to access the more remote lakes.  I built a float tube hauler that makes it easier to get my float tube, waders, fins etc. to the lake, instead of carrying everything on my back. My hauler started as bicycle frame with just the front wheel, and handles (see photo). I can place my inflated float tube, waders and other gear on it. Then I easily roll it along an old road or trail to the lakeside, where I take off my hiking boots, put on my gear, and go fishing. After a day out on the lake, when it is getting dark, I kick toward shore. I take my rod apart out on the lake and get ready to take off my fins.  As I hit shallow water, off comes the fins, off come the waders, I pile up my gear, and I am ready to head up the trail.
You'll need a trout stamp on your license to fish stream trout lakes. Other regulations vary. Some stream trout lakes require catch-and-release, up to a size limit, to preserve trophy-size trout. Others have regular inland regulations. Using live bait is prohibited due to the potential introduction of minnow species that are not desirable for these lakes.
The stream trout in these lakes feed readily on streamers and other flies as the season progresses. This is especially true for rainbow trout, which are opportunists. They seem to cruise just under the surface and feed on terrestrial insects that are blown onto the water due to wind, such as ants, beetles etc. Pay attention to where the wind might blow bugs from the nearby shoreline, and to the other end of the lake where wind-blown insects might collect.
These lakes have a variety of mayflies, including the giant Hexagenia limbata species.  These are the mayflies that hatch in such profusion that MNDOT has used snow plows to clear bug-body-slickened river bridges, where the lights have attracted clouds of the big mayflies. When the Hex hatch is on, fish gorge themselves.  Even after the famed Hex hatch is over on these stream trout lakes, rainbows seem to be looking for large, dry flies. I have seen rainbows "porpoise," breaking the surface to come down on surface flies, several weeks after that hatch. Early summer, when the mosquitos and black flies are a problem, is also when there is good fishing. With no surface activity, a heavy sinking tip fly line and weighted nymphs seems to work. "Trolling" in your float tube, by slowly kicking your feet and dragging your fly line, seems best for this type of rig.
Winter is an excellent time to dream about visiting these remote lakes.  Some will take a little research and inquiry to figure out how to reach, and the information is sometimes sketchy, but this is a challenge that adds to the reward of making it there.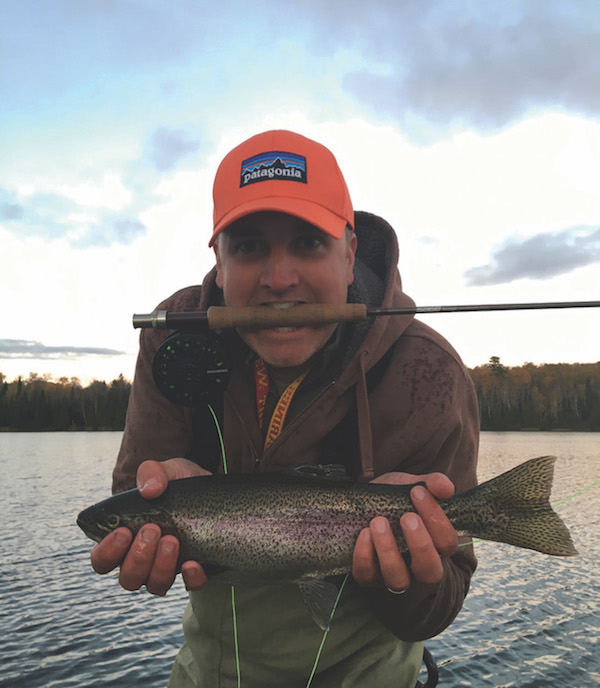 You also can find out stocking information from the MNDNR, along with when a lake was "rehabilitated."  These small, cold, infertile lakes don't support other gamefish of any size, so those fish were cleared out, and trout were stocked.  From this information you can narrow the lakes to the most productive, with the species and size of fish you prefer. Even if you don't catch a trophy, it is an intriguing and interesting process to identify, determine the best access, and finally launch a float tube into these great fly fishing lakes.
 Area Resources
Scott Sorenson is the owner of Fly Box & Company in Grand Marais, and a longtime supporter of Trout Unlimited. He offers a guide service, rental, hand-tied, still-water fishing flies and, even better, a provider of good advice. He says if you want to trade up from a float tube, you might consider rigid pontoon kick boats. They are more durable and you can use fins and oars.  They come in a variety of sizes, move more efficiently through the water, and provide a more stable platform for casting. As for pumps, he likes the K-Pump. It's portable, comes in various sizes, no hoses, durable, and is made in the USA.
He says the Hex hatch typically happens the last week of June through the first week of July in his area of Cook County. Call him to find out what's hatching when, and for advice: 218-370-9659, or go to his website, www.flyboxmn.com.
MNDNR Info:
Designated stream trout lakes: http://dnr.state.mn.us/fishing/trout_lakes/list.html
Clicking on the lake name brings you to its Lakefinder page with stocking history, survey results, depth contour maps, and a description of how to access the lake. You also can look at maps showing the location of designated trout lakes at http://dnr.state.mn.us/fishing/trout_streams/northeast.html You also can contact the MNDNR Area Fisheries office in Grand Marais and Finland, MN and ask about a lake you might be interested in. Once you've settled on a lake or two, you can plan your overland assault using maps from the Superior National Forest. https://www.fs.usda.gov/main/superior/maps-pubs Motor vehicle use maps can give you an idea of which logging roads might still be drivable, or not. Officials also warn you to print the maps and know how to use a compass with one.  Cell phone service is unreliable in many areas.
Float Tube Considerations
Here are some of my thoughts on float tubes, also called belly boats or kick boats.  Don't take these as endorsements, just thoughts, and you can always do more research online on your own. I have never had an emergency with my inflatables, but one does need to be aware of the potential for deflation and always wear a personal flotation device.  I wear an inflatable life vest because it is less bulky and more comfortable.   If you are wearing an inflatable vest, make sure you put it on the outside of your jacket, so it can fully inflate and not get trapped. A desirable safety feature is a float tube with more than one air chamber. A second air chamber as a backrest will help in case the main tube deflates. The inflator design is important.  The tubes with the hard plastic caps built right into the float tube seem less likely to leak or come loose after you're inflated and on the water.  I prefer that over a plastic inflator tube that extends out from the body of the tube, with a cap on the end of it. I use a foot pump to inflate my tube, the bigger the better. Make sure that the nozzle on your pump will work with your float tube valves, I've had to retrofit some of mine.
Some float tubes are definitely lighter than others, so if you want to walk-in to more remote lakes, a lighter tube will be easier to haul.  However, the heavier ones are more durable. The float tube I use is a Fish Cat. It is a little heavier than some other brands due to the seat being more padded. The styrofoam under the seat tends to bend so I have put a thin piece of plywood under the foam to increase rigidity which has added to the weight. The newer or more expensive Fish Cats might not have that problem.
Another consideration is shape and the "U" shaped float tubes are much easier to get into and out of than fully round tubes.  You also sit higher, making it easier to cast, a longer fly rod also helps with this. When you use a float tube, you use swim fins or "flippers" on your feet and kick, which propels you backward.  The fins can be any type but they should fit over your wader boots.  Your boots should be somewhat flexible for comfortable kicking; I wear a bigger size tennis shoe over my waders instead of a wading boot. I use fins with plastic side buckles, which seem easier to unbuckle and take off.  Your fins should preferably float but if they don't, have some way of putting a 'keeper' on them so you don't lose them when they fall off.
A real trick with standard fins is once you put them on your feet you can't walk forward and you have to walk backwards. Put your tube in shallow water behind you, don your fins, then pick up your tube and move backward into deeper water until you can sit down on the seat.  When walking to the lake, or getting in the tube, be careful to avoid snagging your rod tip on surrounding vegetation. Hold the rod up in the air.  The voice of experience is speaking here.
One other tip from experience: let some air out of your inflatable after fishing if it's going to be sitting in the sun, or in the back of a hot vehicle. Otherwise, it might burst. It's amazing how hot air expands so much. One other "hack" from Dan Callahan:  a float tube anchor on a retractable clothesline is useful when you don't want the wind to blow you away from a good spot.