Foster the Outdoors Mentorship Program 
Trout Unlimited's mission is to conserve, protect and restore North America's coldwater fisheries and their watersheds. For our mission to succeed beyond our current generation, we must reach out now to children and youth to teach them to fish, to teach them about conservation, and to encourage them to become future leaders in our organization. Today's children and youth are the ones who must take over from us in caring deeply for the fish that we love and the places where they live.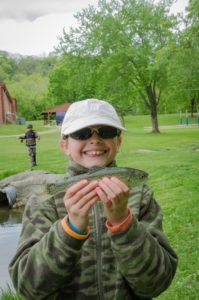 How it Works
We provide each mentor with two rod and reel combos for the youth/ adult pair to borrow and hand-tied locally donated flies. Once I have a solid volunteer roster, I coordinate mentor match-up events which are 2 hour meet and greet sessions introducing mentors to their mentees. We cover gear 101, technique 101 and practice casting together for 30-40 minutes. You swap phone numbers, pick out flies from the donation box and go fishing together as your personal schedules allow. Mentors retain the rods for the summer and bring along to each outing. There is no minimum or maximum number of outings but 2-4 is average for a season.
All participants are required to have applicable fishing licenses and stamps. Rivers, creeks, lakes and backwater ponds are all great destinations as long as mentees are exposed to the outdoors with an emphasis on the basics of fly fishing. Fly rods are fun to catch every species of sh, not just stream trout.
Sign Up Now
Please contact me with any interest or feedback about this program.  If volunteering isn't your style, but you have flies, leaders, rods, reels or other gear to donate, please contact me.  We will make sure they end up in the hands of a future TU member.
Tim Hemstad
612-247-1536