Foster the Outdoors Mentorship Program
Tim Hemstad
612-247-1536
Consider for a moment that you could single handedly impact the sport of fly fishing and conservation of the environment beyond your own generation.  I believe the future of the sport we know and love rests in the hands of kids that have yet to discover the intricacies of how to approach a stream, how to present a fly to a fish or even how to tie a hook to a line.
Who taught you how to fish?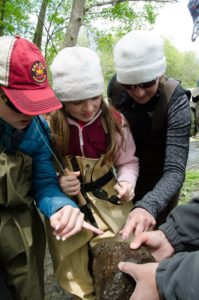 Born and raised in Bemidji, MN, I can still remember catching sunnies off the dock on Kabekona Beach near my grandparents' home in Walker.  Time stood still when Uncle Mick took the kids out on the boat to go fishing.  Decades later, I still remember the hours of anticipation sitting and waiting for a twitch on the line, followed by the jarring boat ride back to the landing over white capped waves.  Catching and eating fresh perch and walleye was the name of the game, come rain or shine.
The spring of 2016 I donated a weekend of my time to the Beginners Fly Fishing Weekend sponsored by the DNR's MinnAqua program.  The experience inspired me, and perhaps impacted me as much as it did the 15-year-old that arrived on a damp Friday evening wondering why her mom dragged her down to southern Minnesota to hang around with a bunch of dry-humored old men.  After getting over the butterflies of meeting a few new people, the teen slowly warmed up to the idea that this might be fun.  Saturday morning after a few demos and some grassy field casting practice, we headed for the stream.  I'll never forget the look on her face when she hooked, played and I netted her very first Minnesota brown on an elk hair caddis pattern I gave her.  In that moment she and her mom both recognized that fly fishing isn't just for old men.
Declining interest in the outdoors
Studies show that the average American boy or girl now spends as little as five to 30 minutes a day outdoors.  The extent of the social, psychological and environmental impact of "screen time" in lieu of good old fashioned playing outside is still an unanswered question.  The undeniable truth is without people interested in the outdoors, the list of stewards for the outdoors will dwindle.  Both participation and funding will deteriorate, which would impact everything from bugs to fish, birds, mammals, water quality, and public lands across the country.
Scott D. Sampson, paleontologist and author of the book "How to Raise a Wild Child," says fostering a love of the outdoors in children begins with three primary building blocks.
1)Experience-A connection with nature is forged through engaging the senses of touch, sight, sound, smell as well as taste when the opportunity presents itself.  The sweet taste of honeysuckle as you forge your way towards the sound of the stream; the smell of fresh cut hay in an adjacent field; watching a deer cross as you stand unnoticed in the middle of the stream; the chattering of a kingfisher as it swoops and perches a branch downstream of you; gripping the cork of a fly rod with fish-slimed hands.  As these scenes play out, passion is forged.
2)Mentoring-The role of a mentor is not necessarily an expert passing down information.  Especially with young children, it is far more effective to engage in side-by-side exploration.  Accomplished mentors listen more than they talk.  Instead of simply telling someone how to do something, they model key behaviors and observe the mentee while offering up pointers here and there.
3)Understanding-Introduce big ideas first, with little emphasis on detailed facts.  For example, demonstrate that stream current dictates which way the fish are looking because that is where their food is coming from.  After this big idea is understood and approaching the stream becomes consistent, start elaborating on the types of food rolling downstream.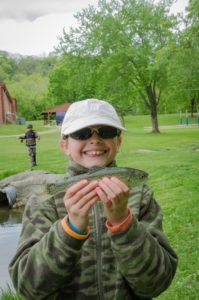 Foster the Outdoors Mentorship Program – 2017
Trout Unlimited's mission is to conserve, protect and restore North America's coldwater fisheries and their watersheds. For our mission to succeed beyond our current generation, we must reach out now to children and youth to teach them to fish, to teach them about conservation, and to encourage them to become future leaders in our organization. Today's children and youth are the ones who must take over from us in caring deeply for the fish that we love and the places where they live.
How it Works
We provide each mentor with two rod and reel combos for the youth/ adult pair to borrow and hand-tied locally donated flies. Once I have a solid volunteer roster, I coordinate mentor match-up events which are 2 hour meet and greet sessions introducing mentors to their mentees. We cover gear 101, technique 101 and practice casting together for 30-40 minutes. You swap phone numbers, pick out flies from the donation box and go fishing together as your personal schedules allow. Mentors retain the rods for the summer and bring along to each outing. There is no minimum or maximum number of outings but 2-4 is average for a season.
All participants are required to have applicable fishing licenses and stamps. Rivers, creeks, lakes and backwater ponds are all great destinations as long as mentees are exposed to the outdoors with an emphasis on the basics of fly fishing. Fly rods are fun to catch every species of sh, not just stream trout.
Sign Up Now
Please contact me with any interest or feedback about this program.  If volunteering isn't your style, but you have flies, leaders, rods, reels or other gear to donate, please contact me.  We will make sure they end up in the hands of a future TU member.