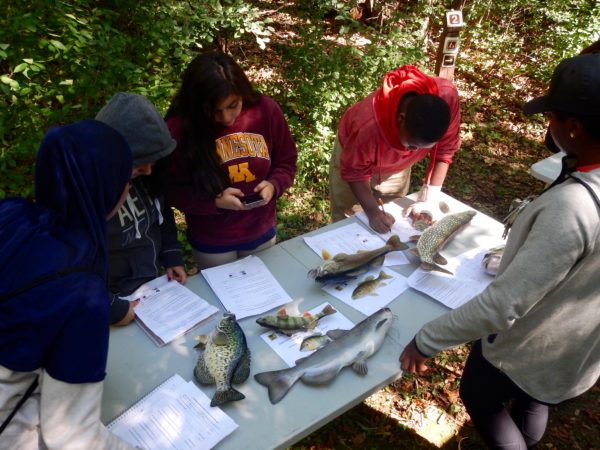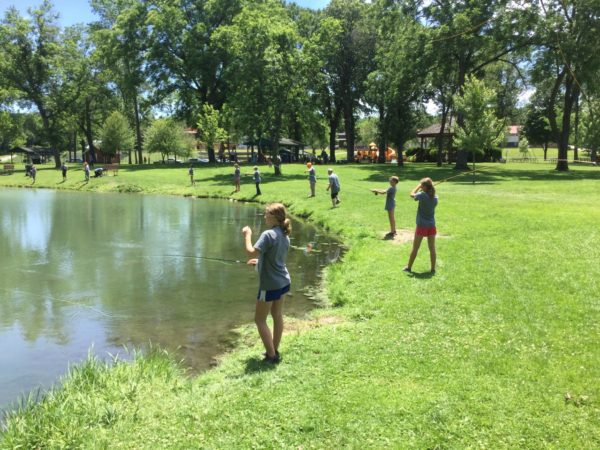 State-Wide Program
In July 2015, Minnesota Trout Unlimited began a three-year outdoor education program in schools entitled "Connecting Students with Watersheds through Hands-on Learning."  Thanks to a grant from Minnesota's Environment & Natural Resources Trust Fund, MNTU was able to hire a full-time outdoor education coordinator to run the program.  Our focus is on getting students in grades 5 to 12 outdoors to learn about the water cycle and the role watersheds (and people) play in keeping our groundwater and surface waters clean.
Part of the program includes utilizing the "Trout In the Classroom" (TIC) curriculum.  MNTU provides aquariums and special water chilling equipment to science classes so they can raise trout from eggs provided by the MNDNR. Students learn how to sample water chemistry and temperature, and learn about fish biology. In spring, after the DNR certifies that trout from each aquarium are disease-free, students release them in the Vermillion River or other trout streams.
The outdoor education program also includes hands-on science learning through field days along streams.  Students learn about DNR fish sampling methods, the impact of surrounding land uses in the watershed on water quality, aquatic insects and other macroinvertebrates, how they can help us understand water quality, how pollution makes its way into waters, and what people can do to improve their watersheds.
Students also learn about the importance of groundwater, which supplies much of our state's drinking water, including that for all of the cities in Dakota and Scott County. Groundwater is also the source of natural springs, which supply cold water to trout streams to keep them cool enough so that trout and other coldwater species can survive.
The program also includes a statewide summit, where students from each school present the results of a watershed improvement project they did.
On December 16, 2015 KSTP-TV Channel 5 reported on the watershed education program Minnesota Trout Unlimited piloted in 10  schools: http://kstp.com/article/stories/s3994059.shtml .
An excellent article from the Dec 14, 2015 edition of The Winona Post can be found at: https://www.winonapost.com/Article/ArticleID/46941/Trout-project-makes-a-splash.
The StarTribune did an article on a watershed education video MNTU is making in cooperation with the Vermillion River Watershed Joint Powers Organization (VRWJPO), for the Trout In the Classroom program next year. It features kids from Lakeville South High School and the School of Environmental Studies in Apple Valley. These students are working on projects involving the Vermillion, a blue ribbon trout stream that has benefited from four years of stream restoration work by Twin Cities Trout Unlimited volunteers and allies in our Vermillion Riverkeepers group. http://www.startribune.com/lakeville-south-students-will-raise-trout-star-in-educational-video/338629582/.
You can find the official Facebook page for the Minnesota Trout Unlimited's Trout In the Classroom program HERE
For more information, contact Amber Taylor, MNTU Education Supervisor at education@mntu.org
Hiawatha Chapter's Program
HTU is working with the DNR to put this program into three area schools.  We needed the DNR because trout and trout eggs require special permits for possession and transportation.  Deb Groebner, who leads the DNR's MinnAqua aquatic and fishing education program, developed this state-wide process for us.  Greg Goodnow has donated his time, experience, and hardware, to set up the aquariums.  His knowledge is important so we have maximum hatch survival and long term survival.  Most important of all, are the teachers who really drive this program.  We have Kelli Schmelling of Stewartville Middle School,  Bruce Frutiger of Century High School and Kevin Landherr from Mayo High School.  We at HTU coordinate, focus, and provide the funding for these programs.
Stewartville Middle School program
View Century High School program